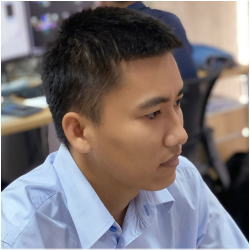 ・What made you decide to join Aikoh Vietnam?
I was impressed to see Japanese buildings and became interested in Japanese companies.
In particular, I joined the company because I wanted to work on the reinforcing bars that are the framework of the building.
・What are your future goals?
I work in Japan, so I place importance on working in Japanese.
I try to use correct Japanese so that I can work smoothly.
・A word for juniors
Building knowledge will be acquired through daily work.
Don't worry. Let's build a famous building with us.