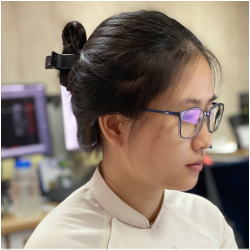 ・What made you decide to join Aikoh Vietnam?
Your school teacher introduced you to Aikoh's company.
I've always liked watching Japanese anime since I was a kid and was interested in Japanese culture, which is another reason why I decided to join the company.
・What is your current job?
We are drawing drawings related to Japanese buildings.
We use software called "DINCAD" based on AutoCAD.
Many functions have been added to "DINCAD", and anyone can easily draw.
・What are your future goals?
Since the head office is a Japanese company, we communicate in Japanese.
I didn't get used to it at first, but it's a lot of fun to improve while studying.
I would like to continue to improve my Japanese and CAD skills and become a person who can contribute to the company more.
・A word for juniors
We are constantly striving to create the optimal work environment for our employees.
It also kindly tells me what my senior employees do not understand.
Let's liven up Aikoh Vietnam with us. We look forward to.